Well as the week of Blog Challenges comes to an end, Admiral SL Walker has set one finally prompt challenge and like every question prompt this week, It set me thinking hard for a good honest answer and I can't wait to see what everybody else produces.
Q1. What kind of writing would you like to tackle in the future?  
A1. How the actual invention of faster-than-light Warp Drive hasn't invalidated Star Trek fiction. Preferable from the beech of a Risa like planet where hot green women like dancing for interstellar tourists.

What? A single guy can dream!
Still in truth I do want to try and get more short stories up on to the Archive and then try to do a longer series of inter-link short stories for each of Naurr, Lily and Emmylou and they colleagues.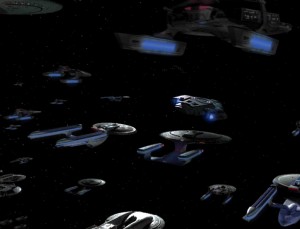 Q2. What themes would you like to explore?
A2. Well looking at the Ad Astra theme list, I want to explore: –
Action/Adventure (Lily pre Centauran Contact Mission of Exploration).
Angst/Drama (Bread and butter to Trek stories).
Family & Romance (Lily and Martin courting / Prime Emmylou and Scott marriage)
Fantasy (Trips to the Holodeck J)
Friendship (Alternate TNG era Gul Emmylou and Captain Xenktid)
Holiday (Ganges for all the Holidays)
Horror (Yes Douglas, Lily and Emmylou exploration mission will show them horror,)
Humor (Always, a core part of good trek).
IDIC (Schick and Jolene plus many others)
Mystery/ Tragedy (I sure you all like to know what happen to the Ariane, I'm sure some day I reveal that mystery)
So that a wrap for #BlogLikeABoss Week.
As always I wish you all safe trekking whatever your destination.
False Bill